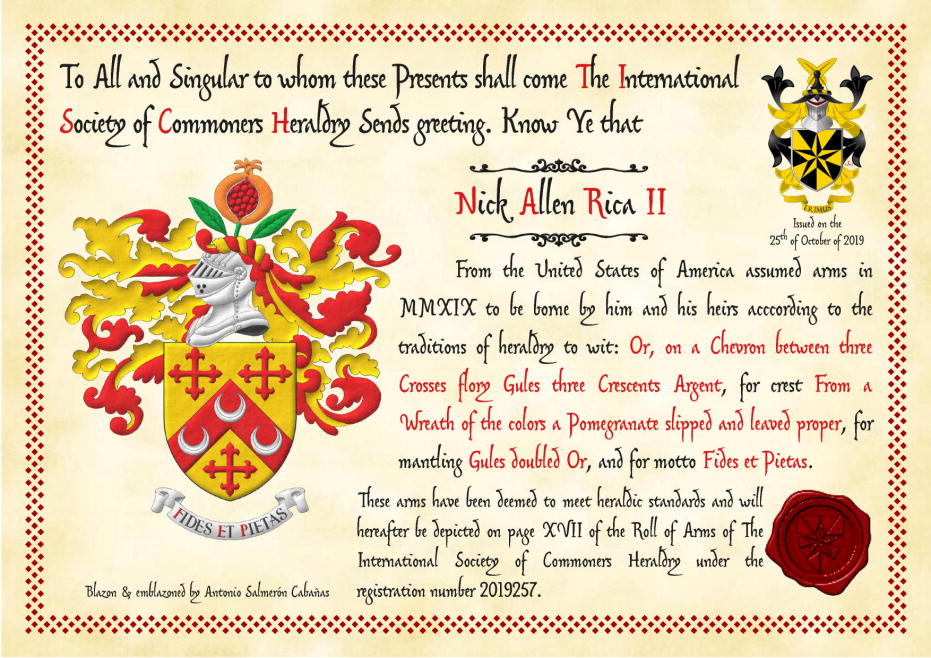 The Commoners' Certification of Arms for Nick Allen Rica II with his coat of arms emblazoned by me.
Or, on a Chevron between three Crosses flory Gules three Crescents Argent. Crest: On a Helm Argent with a Wreath Or and Gules, a Pomegranate Proper, seeded Gules, slipped and leaved Vert. Mantling: Gules doubled Or. Motto: «Fides et Pietas».
---
Blazon keywords: Or, One, Chevron, Gules, Charged, Three, Crescent, Argent, Between, Cross, Fleuretty, Crest, Helm, Mantling, Wreath, Granada, Proper, Slipped, Leaved, Vert and Motto (motivation).
Style keywords: Pointed, Freehand and Outlined in sable.
Classification: Interpreted, Personal and Certification.
Bearer: Rica II, Nick Allen.