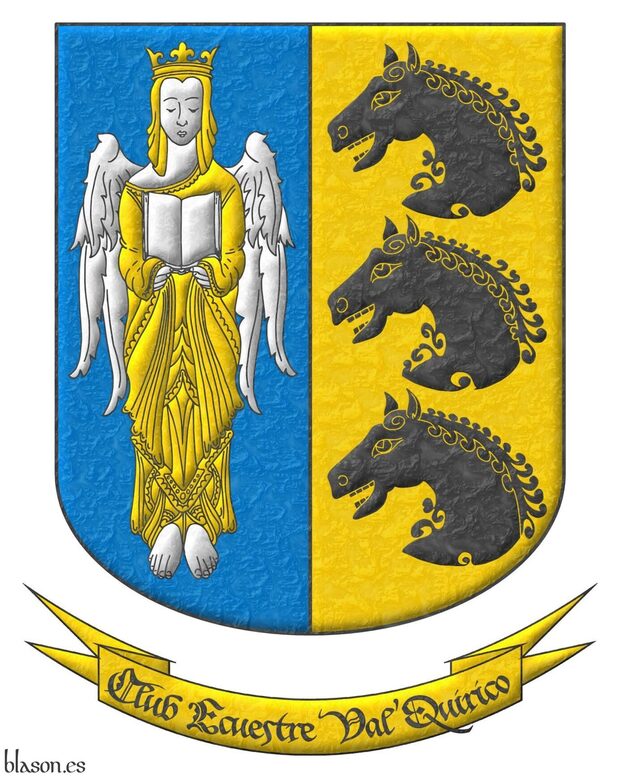 Party per pale: 1 Azure, an Angel Argent, crowned, crined and vested Or holding an open Book Argent; 2 Or, three Horse's heads Sable, couped, in pale. Motto «Club Ecuestre Val'Quirico».
Escudo partido: 1o de azur, un ángel de plata, coronado, cabellado y vestido de oro cargado con un libro de plata abierto; 2o de oro, tres cabezas de caballo de sable, cortadas, en palo. Divisa «Club Ecuestre Val'Quirico».
I created this coat of arms of an socioecomic entity with: the shape rounded; its two fields was illuminated with colour Azur and metal Or; the figures was illuminated with metals Or and Argent and colour Sable; the angel is outlined in colour Sable; the heads of the horses are outlined from the metal of the field; a motto writen in Sable over an scroll illuminated with Or outlined in colour Sable; and the whole picture has a crystalline finish.
---
Blazon keywords: Party per pale, Azure, One, Angel, Argent, Crowned, Crown, Crined, Vested, Or, Charged, Book, Open, Three, Head, Horse, Sable, Couped, In pale and Motto (identification).
Style keywords: Crystalline, Illuminated, Rounded, Outlined in the field tincture and Outlined in sable.
Classification: Created and Socioeconomic.
Bearer: Club Ecuestre Val'Quirico.