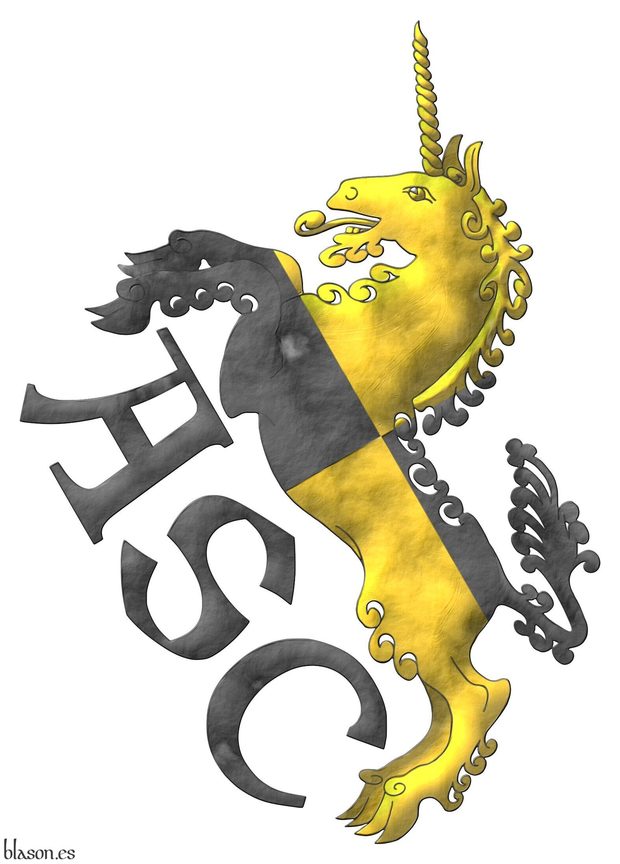 A unicorn salient, quarterly per saltire Or and Sable. Motto: «ASC» bendwise Sable, between the hoofs.
Badge created with: the unicorn and the motto painted with flat color sable and metal or; and the whole set with an old parchment finish.
The original design of this badge, along with other coats of arms and heraldic pieces, is registered as intellectual property in [Salmerón Cabañas, A.; 2015a; page 9]. Additionally this badge with a Unicorn per saltire Or and Sable, is used as what the Intellectual Property Registry calls a «pseudonym without anonymity» to sign documents.
---
Blazon keywords: Quarterly per saltire, Sable, Or, Unicorn, Salient, Motto (identification), Bendwise and Hoof.
Style keywords: Old parchment.
Classification: Badge, Created and Personal.
Bearer: Salmerón Cabañas, Antonio.