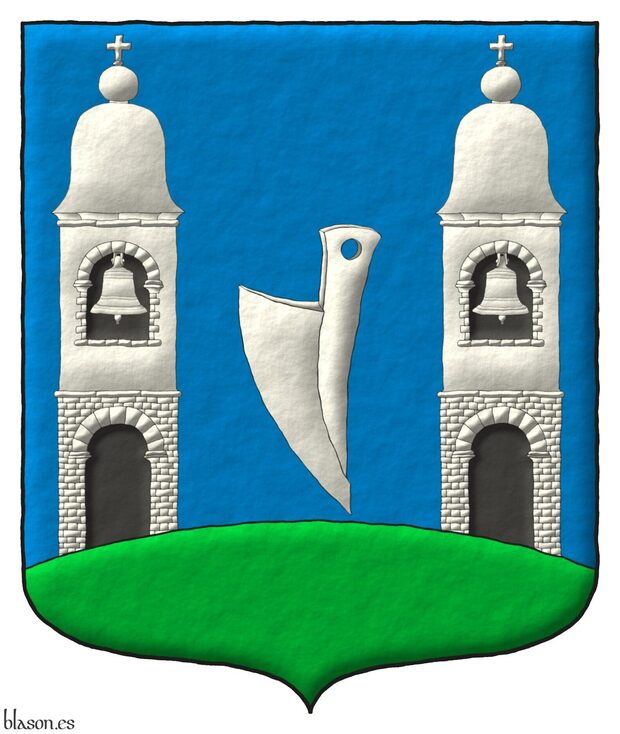 Azure, a plough share points downward Argent between, on a base enarched Vert, two bell towers Argent, port and window Sable.
Escudo de azur, una reja de arado bajada de plata acompañada de dos campanarios de plata, aclarados de sable, terrazados de sinople.
Coat of arms emblazoned by me with a shape endend with an ogee arch, illuminated, and with a freehand finishing.
Csernely is a village in Borsod-Abaúj-Zemplén county in Hungary.
The official description, not the blazon, is: «...in the blue field of a shield standing on its snout two silver-coloured church towers with onion-shaped cupolas and crosses on their peaks are rising on a green hill. Between them a silver ploughshare is floating with its point upside down...».
The official description use the word «hagymakupolás» in Hungarian. The official text is «Csernely címere: Csücsköstalpú pajzs kék mezejében zöld halmon két ezüst színu, hagymakupolás templomtorony emelkedik, ...», but the cupolas painted by them do not seem the classic «onion-shaped cupolas».
Notice the mount color Vert over a field color Azure, not uncommon in this heraldic tradition.
---
Blazon keywords: Azure, One, Plough share, Point downwards, Argent, Between, Two, Bell tower, Port and windows, Sable, Terrace in base and Vert.
Style keywords: Ogee, Outlined in sable, Freehand and Illuminated.
Classification: Civic, Interpreted and Coat of arms.
Bearer: Csernely.