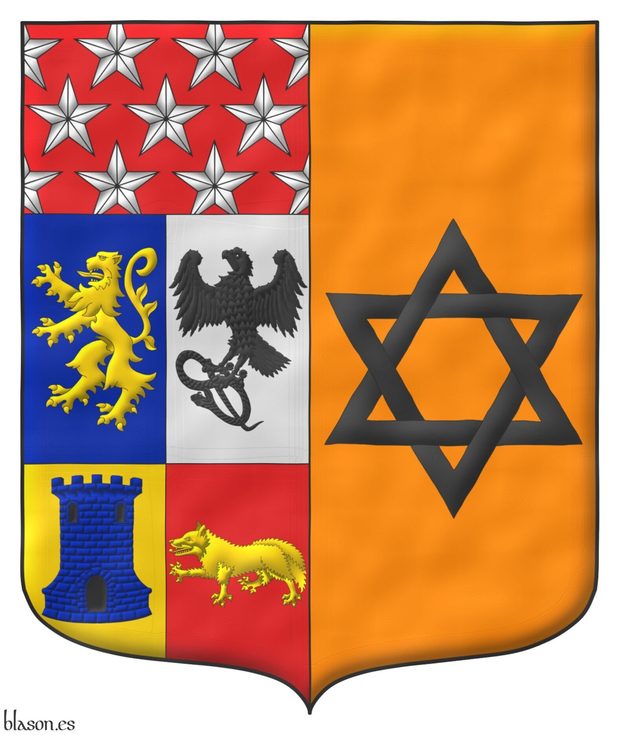 Party per pale: 1 quarterly: 1 Azure, a lion rampant Or, 2 Argent, a falcon rising, grasping in its paws a serpent Sable, 3 Or, a tower Azure, port, windows, and masoned Sable, 4 Gules, a fox passant Or, a chief Gules semé of mullets Argent; 2 Orange, a mullet of six points voided, interlaced Sable.
Escudo partido: 1o cuartelado: 1o de azur, un león rampante de oro, 2o de plata, un halcón azorado, teniendo en sus garras una sierpe ambos de sable, 3o de oro, una torre de azur, aclarada y mazonada de sable, 4o de gules, un zorro pasante de oro, un jefe de gules sembrado de estrellas de cinco puntas de plata; 2o de naranjado, una estrella de seis puntas, hueca y entrelazada de sable.
Coat of arms emblazoned by me with a shape ended with an ogee arch, illuminated, and its finishing is that seems watercolor.
---
Blazon keywords: Party per pale, Quarterly, Azure, One, Lion, Rampant, Or, Argent, Falcon, Rising, Grasping, Paw, Serpent, Sable, Tower, Port and windows, Masoned, Gules, Fox, Passant, Chief, Semé, Mullet, Five, Base, Orange, Six, Voided and Interlaced.
Style keywords: Ogee, Outlined in sable, Illuminated and Watercolor.
Classification: Personal, Interpreted and Coat of arms.
Bearer: Correa, Lorena.