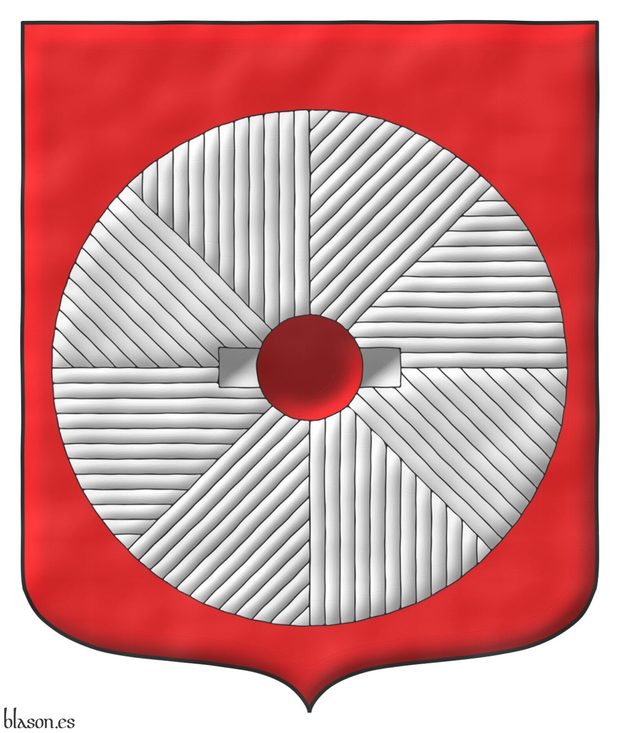 Blazon of the Poumola lineage of Catalonia.
Gules, a millstone Argent.
Escudo de gules, una piedra de molino de plata.
Illuminated and a watercolor finishing with shadow in the hole.
It blazon is describe in [Cadenas y Vicent, V. de; 1987; page 1429], [García Carraffa, A.; García Carraffa, A.; 1968; volume 3, page 358], and [Ferrer i Vives, F.; 1995; volume 2, page 362].
In this case, my theory is that this coat of arms is an example of «canting arms». «Canting arms» use a word or words of the surname or inside the surname to make the coat of arms. The surname Poumola is from Catalonia, we can split the surname into 2 parts «pou-mola», in Catalonian language a) «pou» means «well» and b) «mola» means «millstone» ~ «cadascuna de les dues pedres de forma circular que componen el molí», [GDLC; 1998], and this could be the reason of the symbolism of this coat of arms. «Canting» in heraldry means «talking» or «chatting», in Spanish «canting arms» is translated as «armas parlantes». Some heralds call «canting» to this creative technic.
---
Blazon keywords: Without divisions, Gules, One, Millstone and Argent.
Style keywords: Watercolor, Outlined in sable, Illuminated and Ogee.
Classification: Interpreted, Lineage and Canting.